Suffering Bastard Recipe
Gin, Cognac, Ginger Beer, Rose's Lime Juice, Angostura Bitters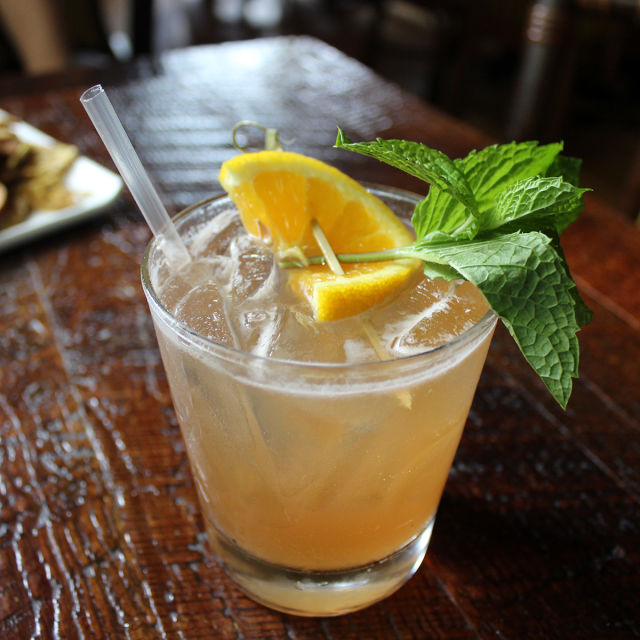 The Suffering Bastard is a cocktail developed by legendary barkeep Joe Scialom—best known for his time as head bartender at Shepheard's Long Bar in Cairo—as a hangover cure for those particularly bad mornings after. The drink was made famous by its (potentially apocryphal) role in the Second Battle of El Alamein in World War Two.
The story goes that, the morning of the battle, the Hussar soldiers in Cairo were caught off guard by Rommel's forces after a night of particularly heavy drinking. The army sent a cable to Scialom requesting an urgent delivery of several gallons of his famous hangover cure, the Suffering Bastard. He delivered, the soldiers recovered, and the Germans were kept at bay.
Suffering Bastard Ingredients
| | | |
| --- | --- | --- |
| | | 1 oz gin |
| | | 1 oz cognac |
| | | 4 oz ginger beer, chilled |
| | | 0.5 oz Rose's lime juice |
| | | 2 dashes Angostura bitters |
| | | Orange slice and mint sprig for garnish |
How to make a Suffering Bastard
Add gin, cognac, Rose's lime juice, and bitters to a cocktail shaker with ice and shake until chilled.
Stir ginger beer into shaker.
Pour unstrained into a double Old-Fashioned glass.
Garnish with an orange slice and sprig of clapped mint.